Special Offers
Redeem Offer Code
Redeem Gift Voucher
Scarecrow Members
Our Feedback
Thank you very much for a rapid delivery!I have had a bad experience with mail ordered plants before, which were not good quality to start with and died within a week of their arrival but this time I was really impressed with the quality of the plants ordered; as the weather was not suitable to plant them, they have been sitting in my garage for three weeks now and they are producing lots of shoots and leaves and look really strong.They are worth every penny! I will definately recommend your nursery as I was so impressed with your service.It's a shame I did'nt find your website before.
Leila Solo, rhondda cynon taff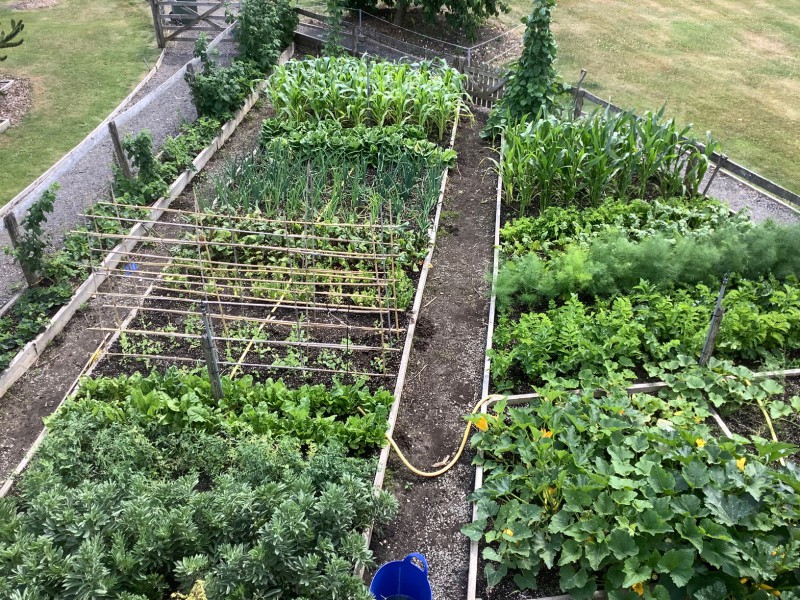 No Better Time To Grow Your Own?
Summer already - not sure how that happened!
For us it has been another busy Spring and early Summer, with very little time to do anything apart from grow plants and send them out to customers - our gardening friends. But despite the last few months having been basically 'work, work work' we have made sure to tend our home veg patch; ten minutes one day, twenty a few days later - probably less than an hour a week in total. The picture above is the result!
Growing your own works on so many levels - a little bit of exercise, great for your mental health (even we relax when we're working on our own veg patch) - and as food prices sky rocket a supply of virtually free food!
So now in the garden (veg and ornamental) it is time to relax a little and enjoy the bounties from your earlier efforts.
But as Summer starts to creep towards Autumn it will soon be time to think about sowings for Autumn and over-Winter crops. There's no sign of this year slowing down after all!
We have decided to keep the nursery closed to calling customers for the foreseeable future. We do, of course, continue to offer a full mail order service - and 'contactless' collections can be arranged (via our online Checkout) for more local customers.
Be sure to follow all our antics at the nursery on Twitter, Facebook and Instagram you'll be able to see what we're doing when - a good guide to what you should be doing too!
Happy Gardening
Stephen, Serena, Molly & Oriana Shirley - And All The Team At Victoriana
View older Diary Posts.